Apple mandates everything you do with your iPhone / iPad to go through iTunes but this doesn't allow you to directly copy the songs in your iPhone / iPad to your computer. Also, it's not that easy to transfer these songs from your iPhone to another device, say another Android phone you have. I recently posted an article on
how to copy songs to your iDevice using a simple drag-and-drop process
without iTunes. You can do this with Copy Trans Manager as explained on that post but this is a reversal of that process: Retrieving songs from iPhone / iPad and copying them to your hard disk. There are two ways to do this.
1. iFunbox (Windows & Mac)

This method is very crude and it will only give you some nameless files with names you may not be able to comprehend. You have to listen to the songs one by one to rename them but the method definitely works. I don't know if this works without
jailbreaking
though.
- Run iFunbox
- Plug in your iPhone / iPad
- Select
Raw File System
- Navigate to
/private/var/mobile/media/iTunes_Control/Music
- Press CTRL + A to select all the folders
- Click
Copy to PC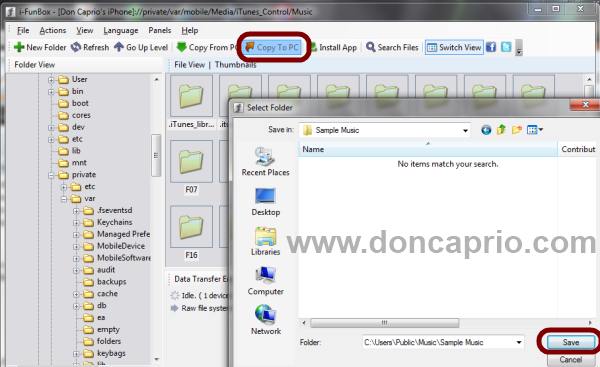 - Select your desired folder to save the files.
Each folder is an album and your tracks are in them with some sort of coded file name. As mentioned earlier, you have to listen to these songs one after the other to know how to rename them appropriately.
2. Sharepod (Windows)
This is by far the best software I've used to copy songs from iPhone to my computer. It also works for iPod Touch and iPad as well. It's very easy to use and the user interface isn't complicated at all.
The user interface provides 2 major options:
i. Copy to computer
: You can select just a few songs you want to have on your computer and then click this button
ii. Backup iPod
: This backs up every single music file on your iPhone including voice memos
Also, unlike the first method, you get the MP3 files named just the way they should be and organized.
3. Senuti
This software works on Mac OS but it's a shareware with some limitations. You ca use the free trial trial for 30 days and also limited to 1000 songs till you purchase a full version.
With the songs in the right folder on your PC, you can easily copy them to your Windows Media Library or iTunes folder. Also, it's easy this way to transfer the songs to your Android phone or some other mobile device.